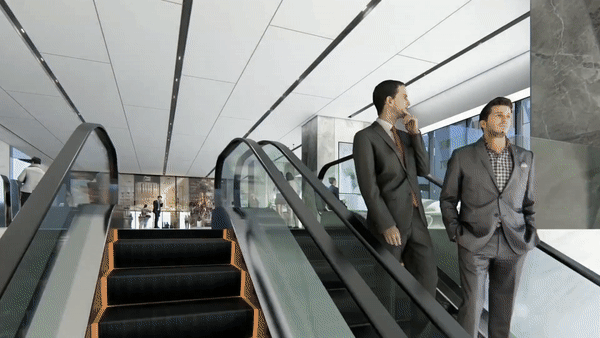 How GLAS Serves As a Precedent for Office Spaces Post-Pandemic
The recent pandemic has truly altered the way businesses and companies handle the workforce. Several of their workers are prompted with a work-from-home arrangement. Depending on the nature of their work, employers give the option of either remote work or hybrid setup. And employees and workers themselves put the setup of "returning to office" into question. Even when the recent pandemic undergoes phases of waning, along with other public health emergencies, the public puts offices and workplaces into much skepticism.
It is incumbent for existing and forthcoming projects to heavily consider public safety and reception as a basis for their designs. At GLAS, all of its infrastructure and framework transcend those concerns. Even before the pandemic, the iconic glass tower is designed with green-based elements, avant-garde embellishments and regular maintenance with the intention of achieving sustainability over an evolving environment. But its sustainable features are not merely aesthetic choices nor ecological measures; they take awareness of tenants' safety and wellbeing.
For an all-glass structure, GLAS aims to set a higher benchmark beyond sustainable design and construction. Thus, on operating its office spaces, the circumstance is cutting-edge and revolutionary for the time. And at a time when businesses reassess onsite employment and office workstations, GLAS applies these precise measures that set a precedent which other office spaces can keep up to thrive in a post-pandemic period:
Air filtration and sanitization
Good air quality leads to a healthy atmosphere inside the building. On every corner, GLAS keeps its air quality in strict inspection. The lifts are equipped with a Plasma Air Purifier that filters and disinfects the air from outside pathogens.
The entire tower is also upgraded its cooling system with a variable refrigerant flow technology (VRF), which detects the number of occupants in an area through a 3D i-see Sensor and controls the air temperature and safety guardrails. Through the energy-saving VRF, occupants can consistently receive clean and balanced airflow.
Back-and-forth communication between designers and consumers
Every corner of GLAS is intended to accommodate to the latent occupants and local populace. But that adjustment requires the input from potential tenants, their employees, local residents and fellow engineers. Their estimations translate to the architecture and design that will soon benefit to them.
The tower's array of lighting, wide-open spaces and contact-free technology are bespoke for tenants and guests' needs. Putting the philosophy "Design with Purpose" into application, the designers heavily consider the function and modification of every element of GLAS to occupants. And communication continues after construction.
Contact-free features and automated controls
In extending the health and safety for its occupants, GLAS places contact-free features throughout the vicinity, starting from the entrance. Guests are guided to two automatic, crystal glass, contact-free revolving doors, 3 meters in radius and 3.6 meters in height.
They are then required to undergo a health screening through Lenus, an all-in-one technology that contains q facial recognition, temperature checker, and sensor-type alcohol dispenser. As for the elevators, the Destination Oriented Allocation System (DOAS) is made available for guests to navigate to their floor of choice with one tap.
Coordination with move management
Through an office setup that designates employee workstations to be manageable for supervisors in one fell swoop, move management utilizes the flexibility of GLAS' cutting-edge office spaces for an optimized performance. With organizations bringing their own design to the tower, GLAS allows any modification possible.
The flexibility of the office levels (from the column-free areas to the wide-open windows) allows move management to adjust and modify the spaces. But since spaces require to be respectful of social distancing, both sides of GLAS and tenants coordinate to create the built environment.
Evidence-based guidelines and certification programs
GLAS' recent LEED Platinum certification is not merely for recognition's sake; the highest LEED rating contains a set of criteria that becomes a high standard that other projects aim to achieve. Alongside that is several professional practices that base their findings on coordinated scientific research.
Such practices start from the design and planning stages, go through the construction phase, and continue to apply in the operations and maintenance of GLAS. Every seal of approval, from the PEZA registration to the LEED certification, signifies every milestone that GLAS succeeds for sustainability.
High regard of hybrid setup
The prevalent presence of the COVID-19 gave the opportunity for hybrid work. But even as the pandemic dissipates, some employees heavily rely on the setup that transitioning back to work will take more than employer publicity to reverse that trend.
GLAS utilizes its spaces to make them amiable for social distancing, flexible modifications and seamless pedestrian flow. And every corner is heavily sanitized. The goal is to accommodate hybrid setups yet present the workplace as a reliable setting for other functions, like staff meetings, administrative work and interaction among workers.
Implementation of health and wellness programs
Being an advocate of sustainable practices, GLAS informs tenants, occupants and visitors of its environmental programs. Health screening protocols are implemented from the very entrance, via the all-in-one technology Lenus. Other screenings are installed before the lifts and the halls.
Signs are also placed, informing of health etiquettes and health updates of the tower. Social media materials and moving advertisements also spread GLAS' esteemed health and safety measures as well as news from several health bureaus. GLAS takes stringent measures to instill its repute as a safe destination for work.
Maintenance of flat antimicrobial surfaces
GLAS is compliant to keep the tower spaces germ-free and sterile from any outside pathogens. This starts with the material for the finishes, which uses stainless metal and natural stoning. That goes along with the glass. The surfaces are intricately chosen to be easily disinfected. And more germ-resistant materials are prioritized.
The tower also has an in-house maintenance team that regularly sanitizes the spaces and the floors. Given the continuing presence of public health alerts, several automatic air filtration units are installed around the area, especially over the screening area.
Reimagined layouts for office spaces
Flexibility and width are held to high regard in GLAS' spaces. From the wider hallways to the higher ceilings, the layout for the tower's office spaces is designed to serve the populace under social distancing guidelines and regulate air circulation.
Comparing to other office spaces in the area, GLAS allows tenants to reimagine their column-free office layouts and modify them, in accordance to the sustainable gauges in place. Additionally, the office levels offer measures for energy conservation, cost-saving utilities and sporadic lighting. GLAS gives ample choices for clearly defined spaces.
Stress-free ambiance and safety
Lastly, with health and safety in top priority served for tenants, sanitation stations are located on various common areas and hallways. Spaces for leasing offer sanitation tools. And every public area is sanitized after use.
GLAS also recognizes the benefit of providing a pristine ambiance that embraces convenience, coziness and congeniality for tenants and visitors of the site. Thus, from the grand lobby to the very halls, a bright and wide atmosphere awaits to bring the best hospitality and security that the premier address can offer. Occupants are fully secured.
GLAS is an all-glass tower and premier office address, located in Ortigas, Pasig City. Bringing world-class design and green technologies, this state-of-the-art, 188-meter edifice features 102,000 square meters of Grade A office spaces and retail areas within its 42-story, 3-basement structure. Its innovative features that exceeds typical office building standards makes this is a PEZA-registered location. And setting benchmarks in green architecture marks it as a LEED-certified Platinum office tower.
GLAS is designed and built by internationally acclaimed firm, ASYA Design. For leasing inquiries, you may contact Espace Leasing and Marketing at (02) 8801 6888 or email us at inquiry@espace.ph.