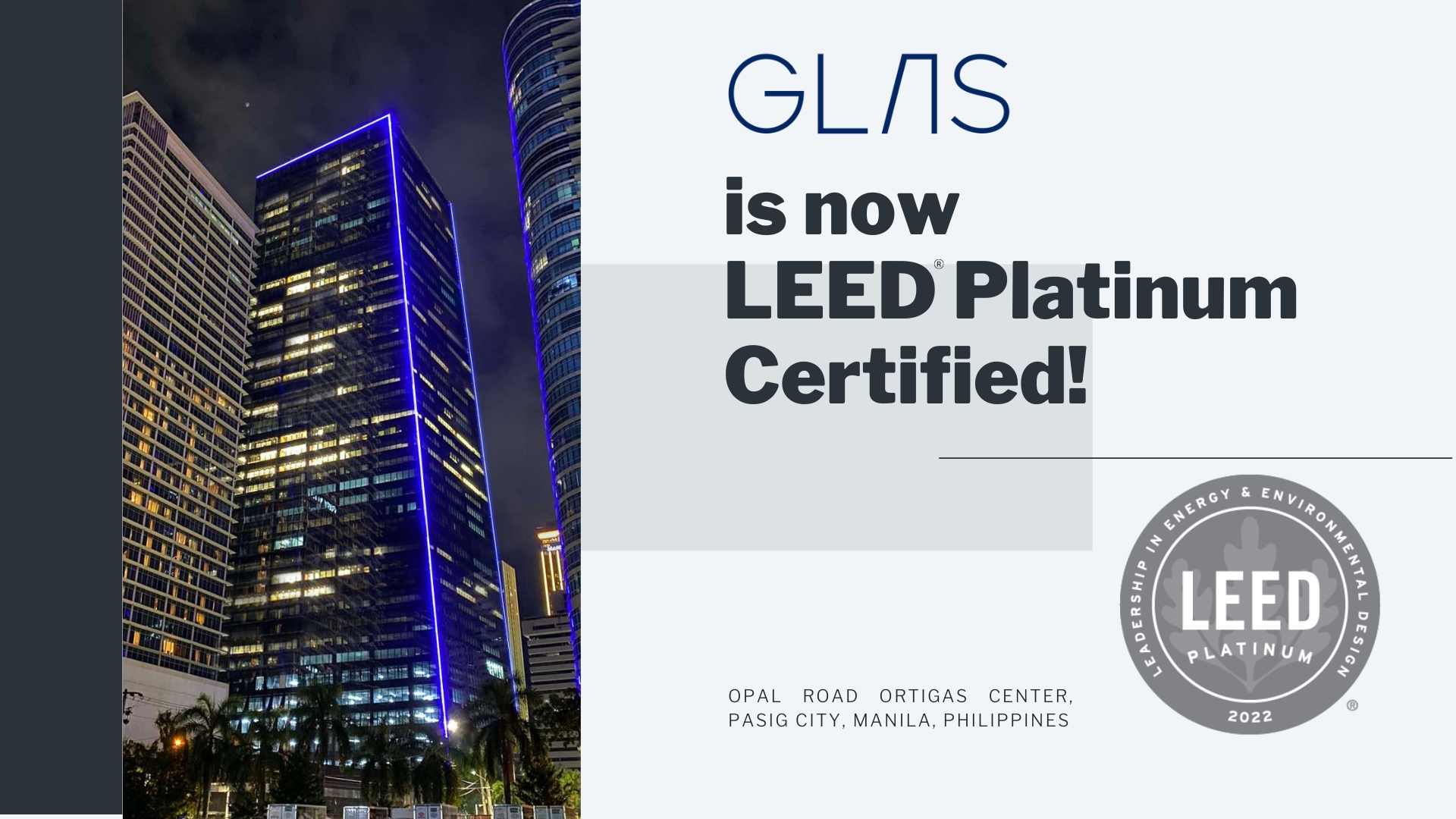 GLAS Awarded LEED-Platinum Certification, Taking Lead on Green Architecture
At a time when adverse effects on the environment become instrumental to every industry that industry leaders significantly acknowledge this urgency, they allow today's architecture to adapt and expand beyond their socially-conscious initiatives.
The 188-meter all-glass tower GLAS aims to serve as an exemplary vestige of architecture acclimating to the necessities of an environmentally-conscious social climate. Recently, the Ortigas-based tower has been awarded with a LEED Platinum certification, continuing to exceed its goals for premier sustainability and raising the bar for green-based architecture.
LEED (Leadership in Energy and Environmental Design) is recognized as the most dependable rating system in the world for green architecture, organized by the U.S. Green Building Council (USGBC); platinum is the highest level on its rating system. And the progress of GLAS ensures that it exceeds to that level. GLAS' prestigious LEED Platinum certification places it on the same leagues as other famous LEED-Platinum buildings, like the Willis Tower in Chicago, Shanghai Tower in Shanghai and Taipei 101 in Taipei.
Though recognizable for its diamond-cut contour, GLAS is largely defined by its primary backbone: its glass installation. The façade is composed of double-glazed triple low-e high-performance glass, a 32mm thick insulated glass unit at 4m x 1.5m per glass panel. It is the first of its kind in the Philippines.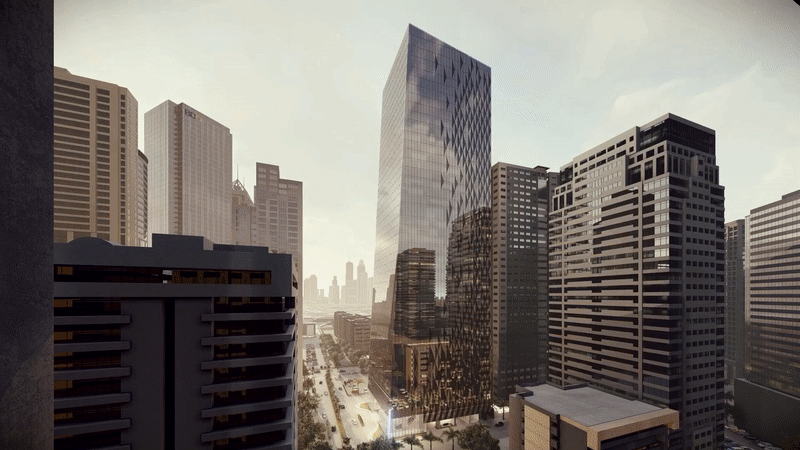 As GLAS' most prominent green-based feature, this type of glass technology will allow natural light to penetrate through the interiors and repel heat from harmful UV rays, enhancing productivity for its tenants. As an energy-conserving measure, the triple low-e glass allows reduction of energy requirements and costs for artificial lighting, and opts to serve as a cost-efficient alternative to indoor lighting. It adds to GLAS' many reliable energy-efficient appliances. Despite being installed per glass panel, the installation turns it into a smooth, coherent façade, applying GLAS' function and form.
Considering the ongoing situation in public health, GLAS optimizes the site with contactless features. From the entrance, the glass tower installed two crystal-glass automatic revolving doors (with 3-meter radius and 3.6-m. height) and screening protocols. The elevators are also generated with a DOAS (Destination Oriented Assistance System) feature, where guests can request access to an elevator from the front desk.
The hotel-grade finishes on the lavatories also applies contact-free, sensor-powered water flow on its toilets and faucets. Several washrooms per floor contain two shower facilities with their own drying area and contact-free hand sprays for sanitation, which is especially urgent presently.
But as a green-based glass tower, GLAS accommodates other unique features to keep up with its sustainable goals, as summed up by the LEED certification. Here are other significant green facets offered by GLAS:
· The 8.5-meter hyper-sized lobby and common areas are suitable venues for meet-ups and gatherings that enable safe social distancing procedures.
· GLAS houses the largest indoor LED screen in the Philippines. This LED screen uses less electricity than other LED screens and makes for a better alternative to billboards.
· In efforts for water conservation, rainwater harvesting system allows highly-efficient rainwater to be reused for maintenance, housekeeping and landscaping purposes.
· Bicycle parking spaces are provided in the basement to promote the use of clean air and safer modes of transportation.
· Energy recovery ventilators are used to extract and sterilize fresh air, in order to improve indoor air quality inside GLAS.
· Natural daylight and 360º views of the city contribute to a healthier and more optimized working environment that enhances performance and productivity.
· Allocated 4-zones with their own 5 elevator cars and 4m-width lift lobbies amount for better pedestrian traffic and tenant exclusivity.
· Column-free interiors enable flexible office configurations, as well as seamless natural light and ventilation.
Prestige aside, GLAS' LEED certification is one of its most crucial steps in promoting green architecture as vital for environmental integral and future urbanization. Its presence over the sprawling neighborhood of Ortigas can make a significant influence over other skyscrapers. And importantly, the benefits of its sustainability fall back to one common group: the people.
At this day and age, CEOs around the world widely consider the environment as core to their business, their developments and the workplace. GLAS reflects that urgency, raising the global standards on sustainable design and construction, and promoting sustainable practices to both tenants and visitors.
About the U.S. Green Building Council
The U.S. Green Building Council (USGBC) is a world leader in the innovation of green architecture and sustainable practices for buildings, structures, communities and urban developments. Since 1993, the organization advocates for the application of sustainability in building design, construction and operation. With the application of their LEED rating system, the influence of global leaders in the field and other rigorous programs, cutting-edge structures around the globe are able to set environmental benchmarks that impact local communities, evolve architectural design and advance public policies for the preservation of developments.
GLAS is an all-glass tower and premier office address, located in Ortigas, Pasig City. Bringing world-class design and green technologies, this state-of-the-art, 188-meter edifice features 102,000 square meters of Grade A office spaces and retail areas within its 42-story, 3-basement structure. Its innovative features that exceeds typical office building standards makes this is a PEZA-registered location. And setting benchmarks in green architecture marks it as a LEED-certified Platinum office tower.
GLAS is designed and built by internationally acclaimed firm, ASYA Design. For leasing inquiries, you may contact Espace Leasing and Marketing at (02) 8801 6888 or email us at inquiry@espace.ph.