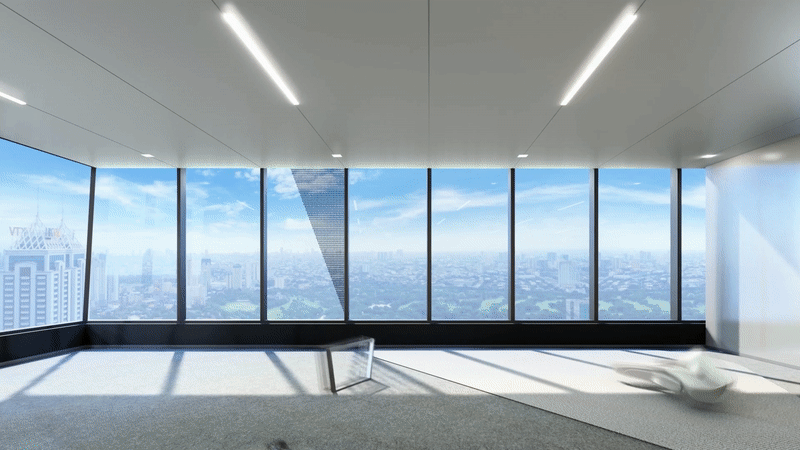 10 LEED Benefits that Define GLAS as a Cutting-Edge Green Tower
GLAS recently received the highly-regarded LEED Platinum certification from the US Green Building Council (USGBC). As the most widely-regarded green building rating system, LEED certifications set the structures they honor on a high global standard for cutting-edge design and sustainable architecture.
Apart from the prestige, GLAS' LEED Platinum certification succeeds one of the premier tower's sustainable goals; one of them is setting a greater benchmark and quality for other structures around the area to follow, in terms of architecture impacting the environment.
Yet, the incentives of a LEED-certified structure does not stop on its design, nor its market. There are several tangible benefits that end users and shareholders can receive from a cutting-edge LEED-certified building like GLAS:
Reduced (negative) environmental impact
LEED-certified structures like GLAS harness less energy and resources for its operations. With high-performance glass installations, low-flow fixtures and rain harvesting systems, the tower sways more to measures that promote positive ecological impact and continuous sustainability.
Improved indoor environment quality
Given the increased awareness of recent public health concerns, a safe indoor environment is of high priority. GLAS has set up air filters and screening protocols (via Lenus) to bring allergen-free air quality and uncontaminated spaces.
More incentivized cost-effective measures
Green-based features move away from costly expenses and suggest using renewable alternatives. Renewables would not only benefit the environment but also lower energy and utility costs. And such LEED-certified structures would also receive potential tax benefits.
Enhanced performance and productivity
Today's workforce are more perceptive when it comes to working environments. And studies show that LEED-certified spaces increase employee productivity and guarantees a secure environment for patrons. A happier, safer workforce can boost a company's performance.
Reducing of carbon footprint
Carbon emissions is a high factor on determining the overall air quality. With promotion of fewer carbon-dependent utilities, LEED-certified buildings can reduce one building's carbon footprint. GLAS promotes such measures with bicycle parking spaces and lanes.
Achievement on sustainable goals
From construction to maintenance, GLAS assigns every building component to be sustainable throughout time or any adverse conditions. Thus, LEED's strenuous criteria on construction materials, area maintenance and energy use sallow buildings to endure through time.
Participation in ESG goals
ESG (environmental, social, and corporate governance) is the method of influencing corporations to take part on social goals and profit simultaneously. The LEED label boosts a company's convivial profile; it is a useful public relations tactic.
Boost on competitive edge
LEED-certified buildings are among the most competitive in the market, thus making them highly valuable for tenants and commanding them with highest rents. And the edge for GLAS is its high-caliber features that stand out competitively.
Increased prospects on recruitment
As mentioned, today's workforce has a greater regard for indoor spaces, particularly with their sustainability and safety. Tenants and workers see highly-lauded recognitions, like the LEED rating, as a primary factor on choosing the ideal spaces.
Value Creation and Expansion
Structures with LEED certifications – from homes to buildings – can accumulate high values for the spaces they contain. Ecologically-friendly buildings and Class A offices are priced higher for shareholders. And given its prestige, GLAS expands value creation.
By design, GLAS intended each area to tend to every area of sustainability. Thus, its LEED Platinum certification is not merely an achievement but its reflection of the principles as a trailblazer of green architecture.
GLAS is an all-glass tower and premier office address, located in Ortigas, Pasig City. Bringing world-class design and green technologies, this state-of-the-art, 188-meter edifice features 102,000 square meters of Grade A office spaces and retail areas within its 42-story, 3-basement structure. Its innovative features that exceeds typical office building standards makes this is a PEZA-registered location. And setting benchmarks in green architecture marks it as a LEED-certified Platinum office tower.
GLAS is designed and built by internationally acclaimed firm, ASYA Design. For leasing inquiries, you may contact Espace Leasing and Marketing at (02) 8801 6888 or email us at inquiry@espace.ph.