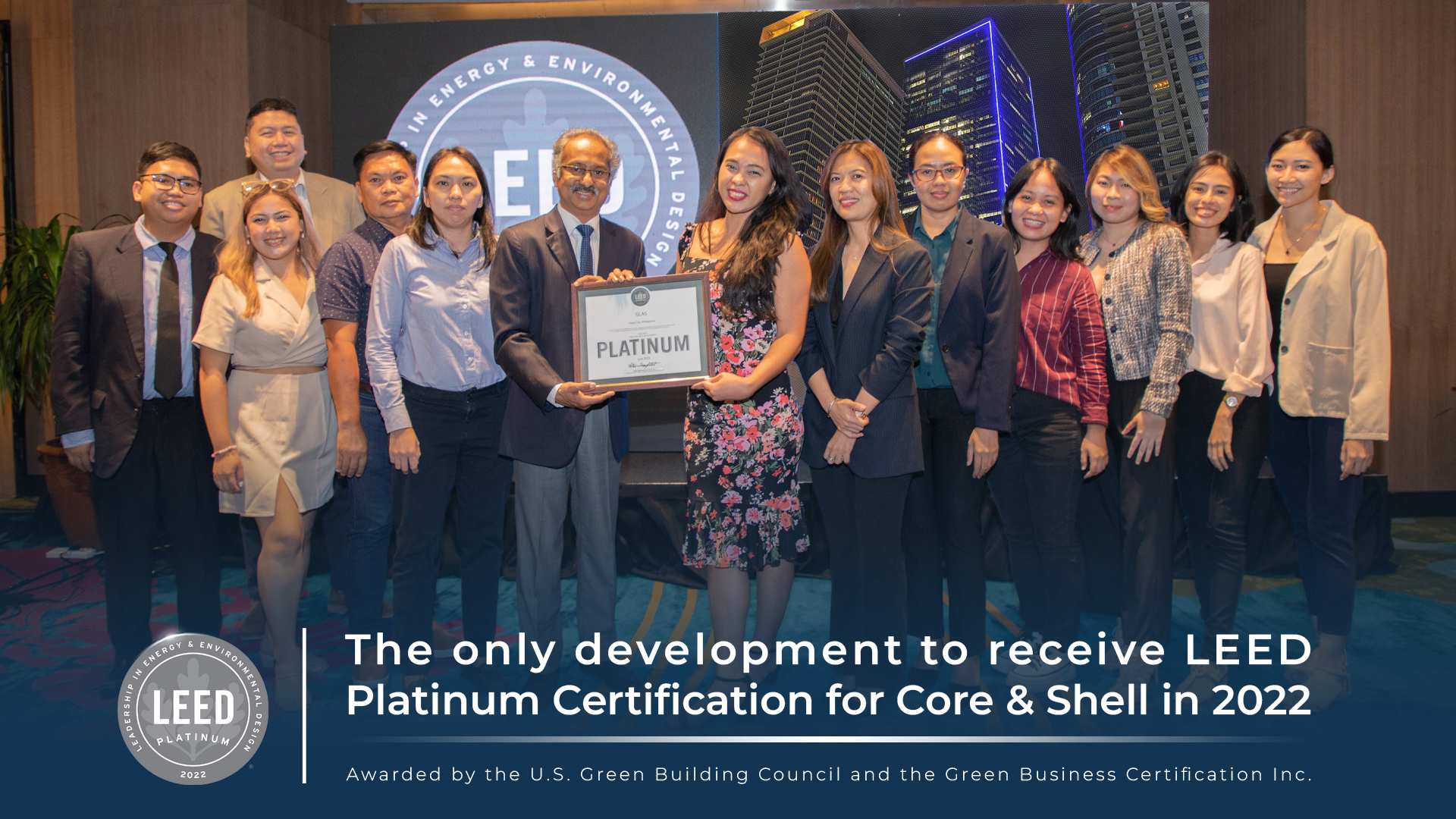 Glas: Awarded as the only LEED-Certified Platinum (Core and Shell) Development for 2022
Through its highly-regarded LEED Platinum certification, GLAS landed as the only project in the Philippines to receive LEED Platinum Certification for Core & Shell in 2022. Recognized by the U.S. Green Building Council and the Green Business Certification Inc., this merit places the design-and-built tower on an undisputable prestige as a world-class green building.
Since its inception, GLAS' design ensured that it meets the standards of LEED. Every LEED rating until the highest one, Platinum, ensured of GLAS' continuous progress on its sustainable architecture and cutting-edge design.
Eventually, GLAS received the Platinum rating last June 2022. Recently, at an awarding ceremony last 29th of March 2023, GLAS was hailed by the Green Business Certification Institute (GBCI) as one of the 24 projects in the Philippines responsible for the tenth place in the Top 10 Countries and Regions for LEED in 2022. (The Philippines achieved a total of 1.06 million square meters of LEED-certified area.)
And for GLAS, numerous developments within the tower are assured to elevate the experience and the expenditure for patrons inside the premier office address. The recognition only assures of the importance and progress of green buildings in the country and in the region of Southeast Asia.
GLAS is an all-glass tower and premier office address, located in Ortigas, Pasig City. Bringing world-class design and green technologies, this state-of-the-art, 188-meter edifice features 102,000 square meters of Grade A office spaces and retail areas within its 42-story, 3-basement structure. Its innovative features that exceeds typical office building standards makes this is a PEZA-registered location. And setting benchmarks in green architecture marks it as a LEED-certified Platinum office tower.
GLAS is designed and built by internationally acclaimed firm, ASYA Design. For leasing inquiries, you may contact Espace Leasing and Marketing at (02) 8801 6888 or email us at inquiry@espace.ph.