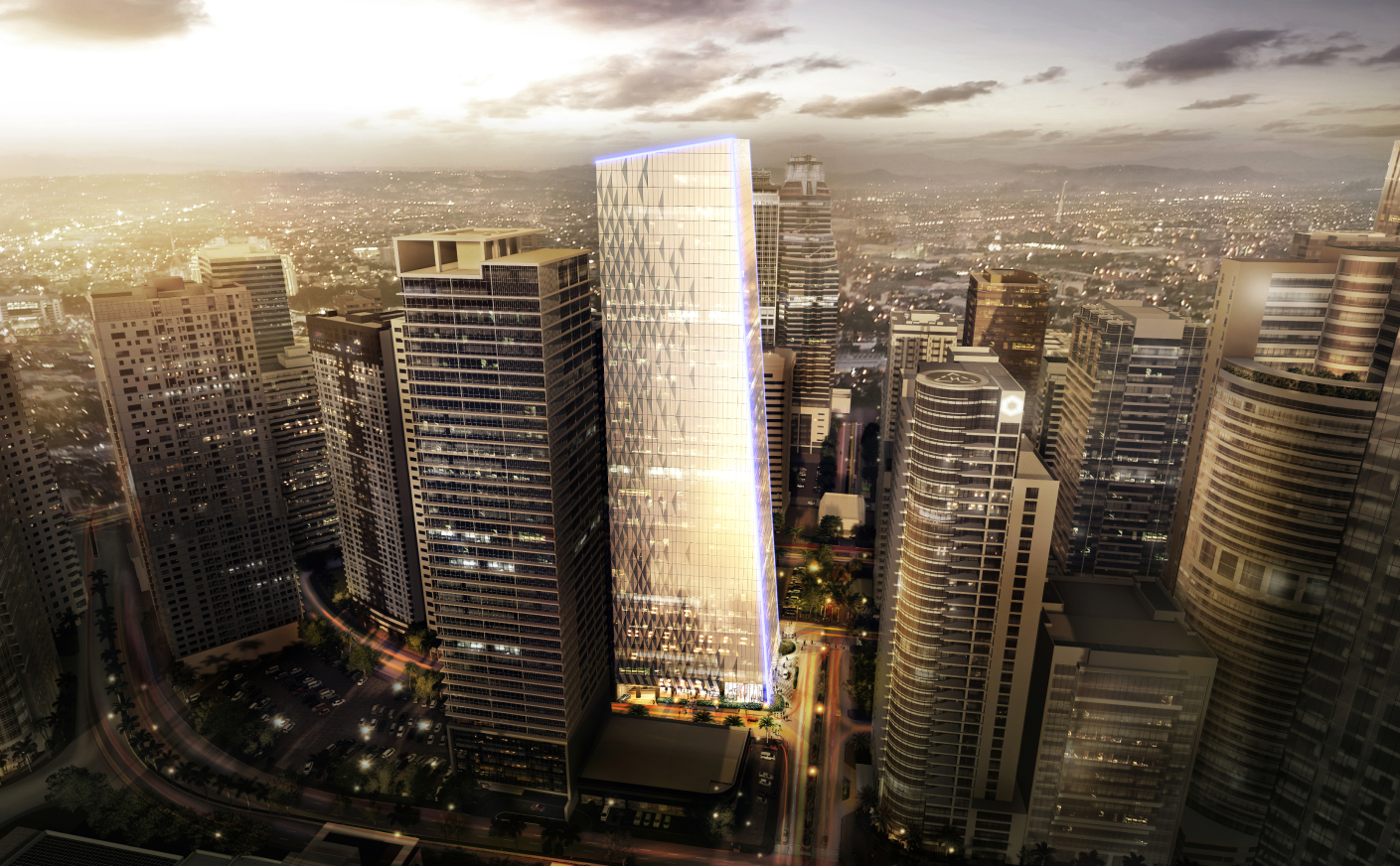 Glas: The Reflector of a Sustainable Age
One of Asya's crown jewels is the looking glass to every elevated experience for an ecofriendly, serviceable office space.
Architecture has come a long way where environmental impact and practical functionality are highly prioritized. Nowadays, design and technology go hand in hand on determining an architecture's sustainability. And green architecture becomes the golden standard for a structure's quality. But it is important to consider that innovations for ecologically-sound and viably-adaptable design boils down to one crucial aspect: the people. Whereas past architectural standards only grasp the market demand for businesses and office spaces, today's green architecture intently accounts the behaviors and experiences of the public to adapt every innovation around them. The premier office tower Glas is the very representation of how strategic design – with its green approach and resourceful efficacy – elevates user experience for its patrons keen for ideas from sustainability.
Situated at the heart of the bustling Ortigas Center, on sustainable ground, Glas prides on its world-class design and environment-friendly innovations to offer the ideal office space for its tenants. Within its 42-story and 3-basement structure is 102,000 square meters of Grade A office space and retail areas, all enhanced with sustainable and ecological utilities to optimize the structural quality.
Its 188-meter all-glass façade easily stands out from the busy skyline. But enhancing it is the double glazed, triple Low-E high performing glass windows, the first in the entire Philippines. It is one of the tower's most sustainable efforts wherein light and heat are distributed evenly, allowing the tower to save energy.
That is where Glas stretches its aims to cater to the interests of tenants while staying committed to its sustainable goals. The tower is divided into four zones, with low to mid zone areas for BPO offices and the high zone areas for corporate offices and other amenities. It also houses sufficient parking areas, alongside ample bicycle parking spaces as a green initiative.
Each floor contains approximately 2,000 square meters of rentable office spaces, complete with a 4-meter high ceiling space and unbarred corner views. Its distinctive column-free design also allows tenants to maximize their office layouts and technical setups. Office flooring is also prepared to moderate construction from tenants.
ASYA's homegrown design team finds a common ground to answer the demands and necessities of a cutting-edge space.  The approach to the design leads back to sustainability, suitable for its environment. Through its one-stop-shop design and build process, Glas is enhanced by the workability of its design that examines its environmental impact, structural strength and economical factor. Each occupant is a legatee to Glas' unique attributes, from its intricate planning to spacious allocations, from its bright array of FF&E to its built-in technologies for office enhancements. And with their objectives to balance luxury and sustainability, Glas paved the way for erudite design standards and environmental innovations that inspires the creation of other ecologically-infused projects.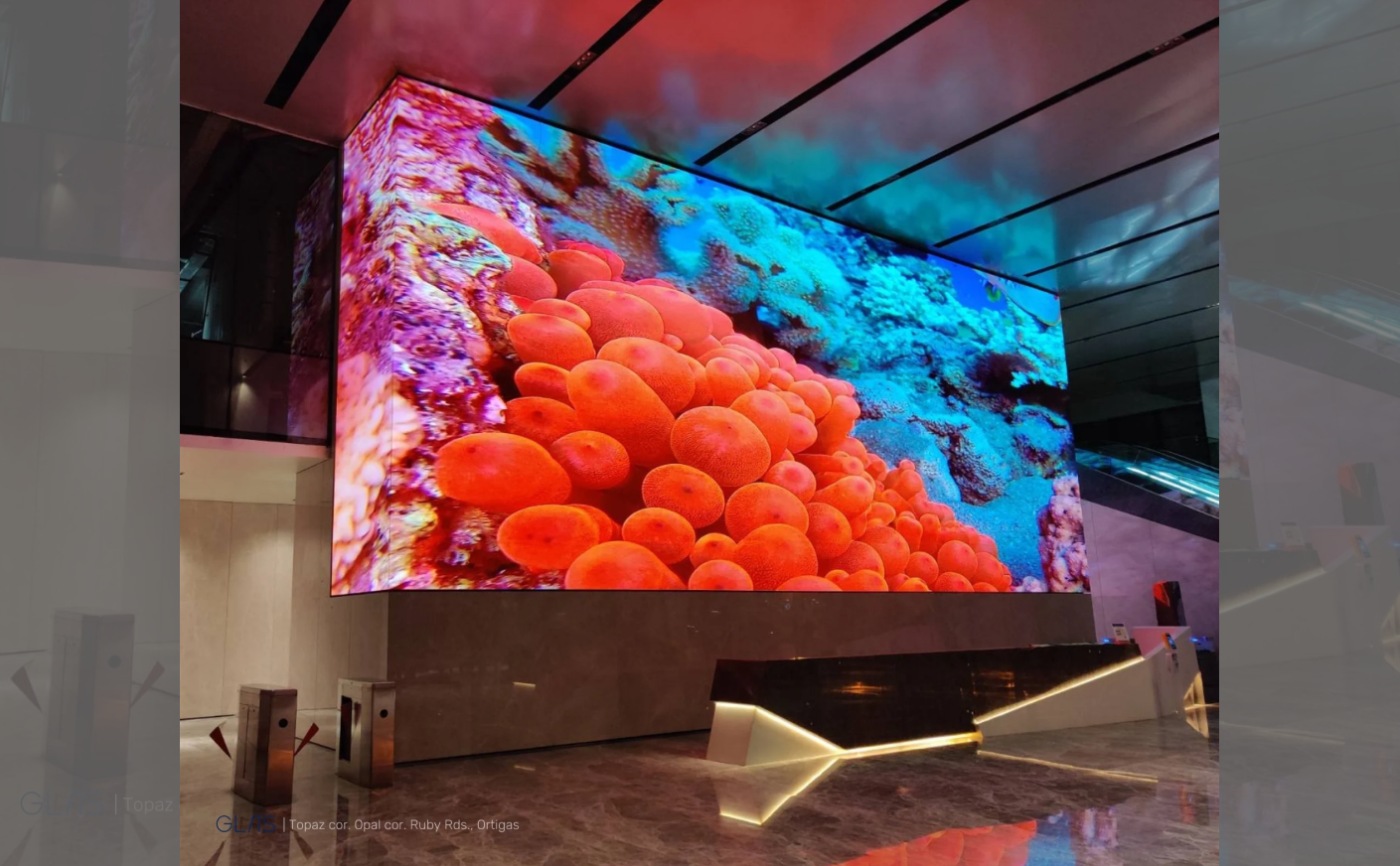 Entering the tower offers a whole new spectacle with its high Grand Lobby. Standing with an 8.5 meter high ceiling, it brings a luxury welcome for visitors. Yet, from its contact-free revolving doors, its all-in-one screening technology (called Lenus) and its wide-open spaces, it is an area that prioritizes social distancing. Its fully tempered, laminated low iron glass panels serves as a source of natural light and gives off a warm ambiance. Its smooth marbled floors and natural stone finish extend Glas' high-class architecture. And complementing the engrossing experience is the largest indoor LED screen in the Philippine, standing at 6m x 21m and featuring a digital arts display commissioned from selected local artists. It is the very definition (or a redefinition) of a grand lobby.
Glas also brandishes on its sensor-driven utilities. On proceeding to different floors of the tower, the tower contains 5 high-speed elevators in service to accommodate the pedestrian traffic on a 4 meters-wide lift lobby. With just one quick tap on the contactless Destination Oriented Allocation System (DOAS), guests are transported to the floor of their choice. Elevators are also equipped with a Plasma Air Purifier that disinfects the air from pathogens. And on hotel-grade finishes like the lavatories and the water closet, all have smart sensors to guarantee a contact-free experience, and save energy and water resources.
Thanks to its sensor capabilities, Glas advances its environmental initiatives to raise the quality of its architecture. Each office space is equipped with VRF (variable refrigerant flow) technology to give access to tenants to control air conditioning zones. And to optimize the AC's airflow, Glad utilizes a 3D i-see Sensor to detect people and automatically adjust its settings for efficient energy usage.
The tower also benefits from its rainwater harvesting system that ensures a seamless process of cleaning and recycling non-potable water. With its in-house specialist teams, Glas is able to conserve water, reserved for housekeeping, landscaping and other maintenance uses.
Along with other hallmarks that defines its quality standards, this premier skyscraper sets the bar high for other structures to reach a caliber in structural quality. For every innovation to achieve its sustainable goals and functionality for its tenants, along with its swift convenience, Glas proved that architecture and sustainability work hand in hand to assess the needs of this generation. And its road to be LEED Platinum-certified reflects the state of design in a sustainable age.
Doors are open. And few floors remain for this PEZA-certified icon. Lease with us now! We'd love to talk.
GLAS is an all-glass tower and premier office address, located in Ortigas, Pasig City. Bringing world-class design and green technologies, this state-of-the-art, 188-meter edifice features 102,000 square meters of Grade A office spaces and retail areas within its 42-story, 3-basement structure. Its innovative features that exceeds typical office building standards makes this is a PEZA-registered location. And setting benchmarks in green architecture marks it as a LEED-certified Platinum office tower.
GLAS is designed and built by internationally acclaimed firm, ASYA Design. For leasing inquiries, you may contact Espace Leasing and Marketing at (02) 8801 6888 or email us at inquiry@espace.ph.
Future Forward: ASYA and Glas' Game-Changing Sustainable Design, featured on BluPrint Magazine
The blending of technology and architecture has come a long way over the centuries. For other countries, green architecture is already the norm. In architecture's most recent progression, new designs that have been strongly influenced by the inherent responsibility of being kinder to nature have slowly been taking the reins, combining form and function with sustainability. In the past, business structures only seemed to focus on creating buildings that were all for human benefit and simply for the sake of having an office space. Without sustainability in mind or the practice of maintaining a green approach, these buildings almost ignored the heavy environmental impact structures can leave. As the team in ASYA believes, modernity however requires flexibly bending to changes in nature which now asks for a wider range of sustainable structures that can last future generations.